Sequoia Healthcare District Website
of
John J. "Jack" Hickey

"It's time to let voters decide the legitimacy issue."
A Real Choice in Sequoia Hospital District Election
November 8, 2016
Harland Harrison website Lois Garcia website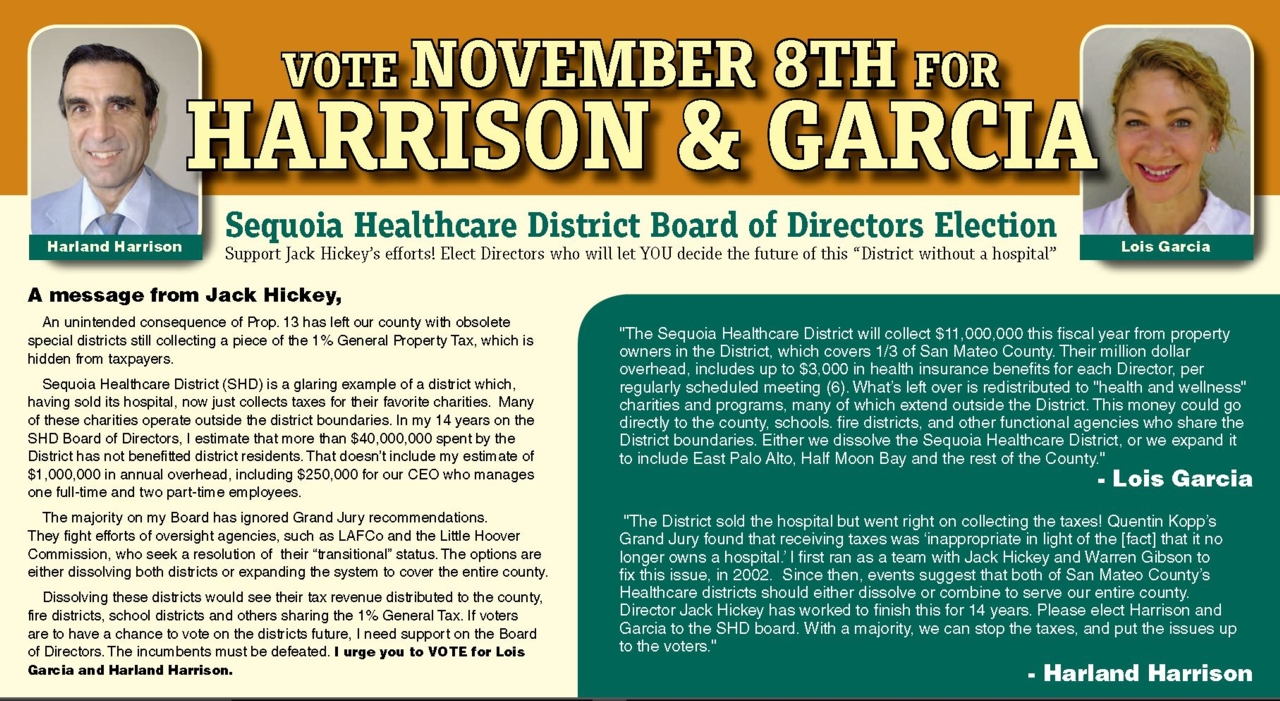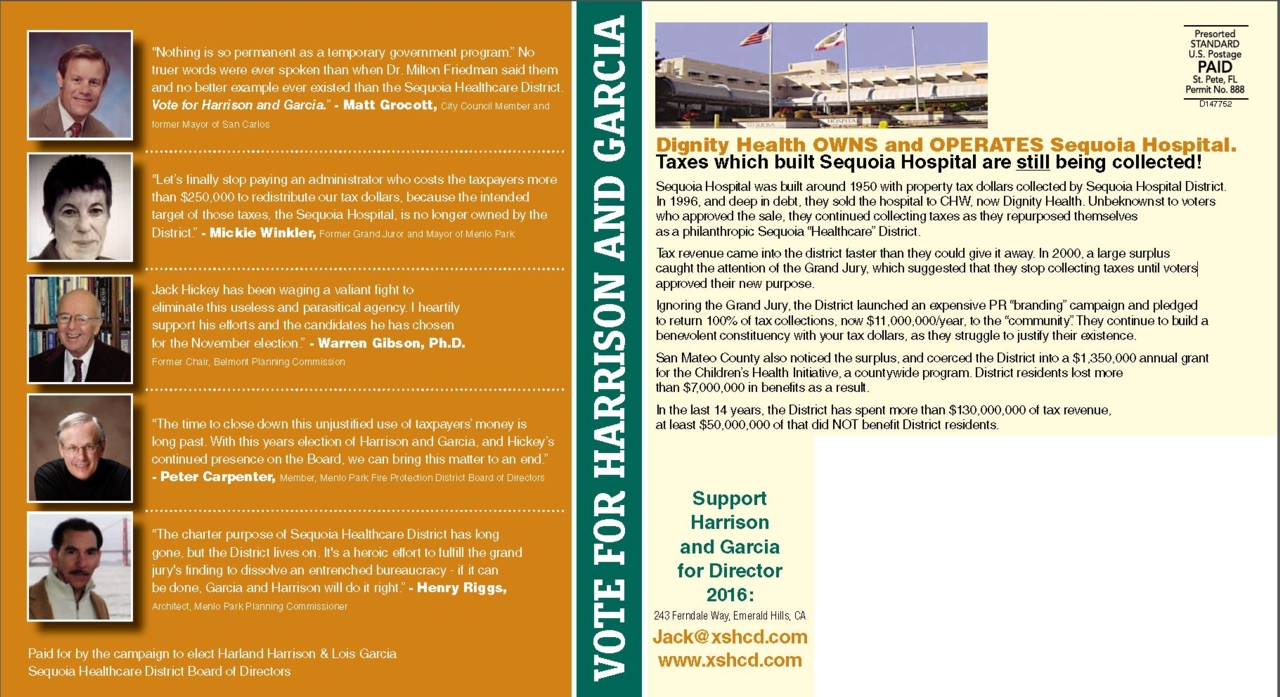 The Sequoia Hospital District(alias: Sequoia Healthcare District) is holding an Election for two seats on its five member Board of Directors, currently held by Katie Kane and Kim Grffin.
Main issue:  Legitimacy of District's continued operation 
Should the District continue to collect property taxes originally assessed to build, operate and maintain Sequoia Hospital, which it no longer owns?  Not without voter approval! The San Mateo County Civil Grand Jury questioned the District's use of these taxes for philanthropic purposes never intended by voters.
LAFCo gives Healthcare Districts' a "transitional sphere of influence"
The Local Agency Formation Commission(LAFCo) oversees formation, consolidation and dissolution of special districts. On May 16, 2007, they adopted the following "sphere of influence" for SHD and PHD: "transitional sphere of influence with the potential for expansion to include excluded areas, dissolution and consolidation". 
The 2005 Civil Grand Jury said the Sequoia Healthcare District Board should explore the merging of the two agencies as well as the expansion of the districts to include all San Mateo County residents.
Healthcare Districts have a life of their own
Both the Sequoia Healthcare District and the Peninsula Healthcare District have avoided substantive public discourse on their "transitional" status    Their PR activities and constituency building grant programs are aimed at sustaining the districts in the face of critical challenges to their legitimacy.
Challengers offer voters a choice
With the entry of Harrison and Garcia, challengers to incumbents Kane and Griffin, voters will have an opportunity to elect two directors who, along with Director Jack Hickey, are committed to bringing the legitimacy issue to the voters.
Watch the candidates on youtube
How you can help
Tell your friends about us.
Print and distribute flyers
Contribute to campaigns
Harrison and Garcia for Director 2016 - 243 Ferndale Way - Emerald Hills, CA 94062
650-368-5722 Jack@xshcd.com