Sequoia Healthcare District MUST be dissolved!
DA investigation of Sequoia Healthcare District
The November 6, 2012 election was intended to be a poll of voter support
A vote for Kane and Griffin would be a vote to keep the District
A vote for John J. "Jack" Hickey would be a vote to dissolve the District
Many cast their vote for Jack Hickey and one of the others, defeating the purpose of the vote
Jack Hickey is Endorsed by the Howard Jarvis and Silicon Valley Taxpayer Associations
I was first elected to the Sequoia Healthcare District Board of Directors in 2002, re-elected in 2006, and again in 2010 when I garnered 1,565 more votes than long time Boardmember Art Faro. I have 2 years remaining in my 3rd term. I deliberately forced this election by filing for this 4 year seat. My goal is to outpoll both incumbents, Kane and Griffin. That will be a mandate for dissolution of the District which, if ignored by the Board, I will take to the beneficiaries of dissolution for their support. At the very least, I will use the initiative petitioning process enabled by the act which created the Sequoia Hospital District in 1946 to put it on the ballot. With a large plurality of the vote, gathering signatures for those petitions should not be a problem. If I am elected, I will have to vacate my current seat.
The issue is simple. Voters established a hospital district in 1946 to build, operate and maintain a hospital. Property taxes were assessed for this purpose and Sequoia Hospital was built. The district sold Sequoia Hospital in 1996. Mission accomplished! It is now wholly owned, maintained and operated by Dignity Health (formerly Catholic Healthcare West). The District should have been dissolved, with their taxes going directly to schools, fire districts, cities, the county, etc. Incumbents Kane and Griffin want the District to keep collecting those taxes. They think their choice of beneficiaries, which include many worthwhile charities, is what the voters want. I disagree. So did two San Mateo County Civil Grand Juries (2000-2001 & 2001-2002)!
Sequoia Healthcare District Budget (2012/2013)
Budgeted revenue $11,248,676. Budgeted expenses $11,607,766. (excluding pension pass through of $2,600,000)
Note: internal budgets for the HeartSafe and Healthy Schools Initiative Programs are not posted on the District website.
The Sequoia Healthcare District claims a Total Community Support of $10.6 million for FY 2012-2013. That figure assumes that the $1,000,000 spent on Nursing Education will result in 100% of the graduate nurses working in the District. That is no where close to reality. See: Web Link A 50% figure would be an overestimate. Of more than 300 graduate nurses, only 64 are currently employed at Sequoia Hospital. That's $500,000+ not going to support the Community.
The District also claims that 100% of the expenditures (total budget) for the Heartsafe and Healthy Schools Initiative are supporting the community. That is simply not the case. Payroll costs for Program Directors and a Dietician total more than $207,000/year. Membership in RWC 2020 costs $20,000. Employee health insurance adds another $20,000. Contracted services, seminars, conference attendance, promotional expenses, cell phones, gym subsidies, etc. add $100's of thousands more. I have asked the District to provide me with a copy of the General Ledger covering the past two years so that I might provide the public with more accurate figures. Their stonewalling has forced me to resort to a Public Records Act request again. My last request was made in 2011. The District's response to that request can be found at Web Link NOTE: On October 25, 2012 my request was fulfilled, and I have posted the General Ledger for the past two years
I estimate that the Districts claim of Total Community Support of $10.6 million for FY 2012-2013 is overstated by ~$1,000,000.
It should be ~$9.6 million. See: Sequoia Healthcare District website.
Taking budgeted expenses of $11,607,766 and subtracting an adjusted Total Community Support of $9.6 million
we find $2,007,766 in expenses not going to the Community.
Dissolution of the District will solve that problem!
MUST SEE!! Glossy, 4 page 11" x 17" full color "Report to the Community"
This mailing was prepared by staff but not reviewed and approved by the Board of Directors! In spite of my October 17, 2012 request to CEO, Lee Michelson, to "Please postpone printing and mailing commitments until this has been reviewed by all Directors. A one week delay should suffice.", this 4 page 11" x 17" full color brochure was mailed out. A friend of mine received it in the mail on October 25, 2012. In an e-mail to Board President Kim Griffin and Jack Hickey, CEO Lee Michelson said "The sending of the annual report to the Board in advance is a courtesy not for your approval. Neither the Board president or the majority of the board has asked for approval so as I understand the situation this is a staff responsibility. There will not be a delay. In another e-mail Lee Said, "...the annual report always gets mailed out this time of year even in non –election years ...". That's not true. In a November 1, 2011 memo to the Board of Directors, Lee said "Enclosed you will find our new annual report that will be mailed next week..." In a letter to the Daily Post (November 1, 2012) the deceit continues.
Is this a Report to the Community or an Electioneering Communication?
See: WEBLINK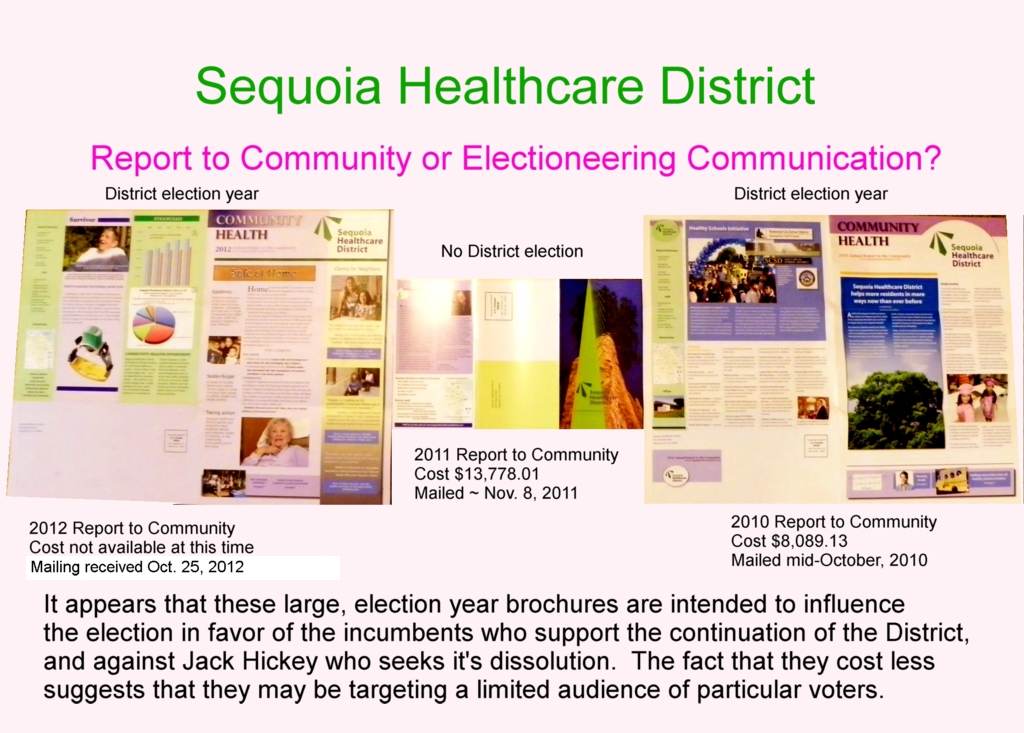 Compare the font size of the brochure's list of schools benefitting from District support with that of the labels on the financial pie chart. Did you see your child's school listed? Of course! Can you read the pie chart labels? Not without a magnifying glass!
Note: Dissolution of the Sequoia Healthcare District would allow property taxes to be distributed directly to the school districts.
San Mateo County Central Labor Council says: "ABSOLUTELY NOT John "Jack" Hickey
Flash! Sequoia Healthcare District CEO gets 14 1/2% raise
A mind-boggling 14 1/2 % raise was given to Sequoia Healthcare District CEO, Lee Michelson, on a 4/1 vote reported out of "closed session" at the Oct. 10, 2012 Board meeting! (I am legally prohibited from divulging details of that meeting) The raise is retroactive to Feb. 11, 2012. His salary is now $182,611.55/year! That doesn't include 4% 401k matching funds, $4,800 in lieu payments for health insurance, and other perks. In addition, severance was increased from 3 to 12 months.
The Sequoia Healthcare District spends $56,400/year on a PR consultant, who manages their website and other communications costing an additional $41,000/year. A visit to their website is enlightening. In addition to many photo-ops and anecdotal stories, is a pie chart stating 2012/2013 FY "Total Community Support - $10.6 million Property Tax $8.6 million". What they don't advertise are the costs of maintaining the District. In addition to the PR expenses above there is a $1/2 million payroll expense for four full time equivalent (FTE) employees. They are: a CEO, Executive Coordinator, Director of Healthy Youth Initiatives, part time Heartsafe Program Manager and part time Dietitian. Other annual expenses, such as: $107,510 property expenses, $60,000 for Boardmember health insurance, $80,000 election cost, $25,000 Attorney fees, $21,000 for insurance, $50,000 for investment management, $27,000 accounting fees, $40,000 association membership (Redwood City 2020 and ACHD), etc. That's more than $1 million, not including program related promotional items and contracted services!
While the District, to their credit, does publish financial statements on its website, they forced this Elected Director to use the Public Records Act request to obtain Check Register and Cash Disbursement Journal data. Documents provided by the District in response are stored here. An e-mail thread of the "stonewalling" process used by the District can be found here.
Much has been published on this subject. I refer voters to The Almanac, the Daily Journal (do a Google custom search), The League of Women Voters (click on Candidate Forums for videos), RWCPatch , etc.
PAST ELECTION
The TEAM of HICKEY, GRAHAM & STOGNER
Click on images to access League of Women Voters Candidate information



Jack Hickey Fred Graham Michael Stogner
was seeking control of the 5 Member
Sequoia Healthcare District
Board of Directors
In the November 2, 2010 Election
This was our plan:
When elected, we will act upon the findings of TWO San Mateo County Civil Grand Juries (2000-2001 & 2001-2002),by reducing tax collections originally intended for construction and operation of Sequoia Hospital, no longer owned by the District, and terminating the philanthropic activities never approved by voters. Ultimately there will be a dissolution of the District. See: Hudak Dissolution Memo and SHCD Minutes from 15 October 2008.
The Results Are In!
WHAT NOW?
Jack Hickey is taking the initiative to further our goal by sending a request to the new Assembly Republican Leader.
Public Records Act Request
On 2/17/2011 @ 3:26 PM I e-mailed the following PRA request to the Sequoia Healthcare District:
Lee Michelson, CEO
Sequoia Healthcare District
525 Veterans Boulevard
Redwood City, CA 94063
Mr. Michelson, pursuant to the State of California Public Records Act ( GOVT. CODE §§ 6250 - 6276.48) I hereby request all financial records of the District, in electronic format, which are contained in folders created by Peachtree Software on computers used by the District. I prefer that they be sent via e-mail at no charge. Provision of the requested records on CD would be acceptable with a charge for media cost.
I understand that there are exceptions to disclosure, and that the burden of justifying nondisclosure lies with your agency. Since I have already made less formal requests for District records, I expect an expeditious response to this request.
John J. Hickey
243 Ferndale Way
Emerald Hills, CA 94062
650-368-5722
Documents provided by the District in response are stored here.
Here are some District activities which are wasting your tax dollars;
Membership in ACHD, a lobbying organization. $20,000/year plus the cost of Board Member junkets. BRANDING activities, i.e. promoting the image and name recognition of the Sequoia HealthCare District
Search the SHCD Check Register to see who costs the most. Hint: try a search for Faro, or MTK. If you find an expenditure and want more information, try a PRA request for invoices behind the checks, e.g. here is one of many Calpers invoices which show how much I and Katy Kane cost the District for Health Insurance. Here's another which shows some HeartSafe expenditures.
Have you noticed how the Check Register gives a breakdown of accounts from which the check is drawn, but doesn't give the amount? It used to be worse.
First meeting of the SHCD Board in 2011
See Agenda See Shoecraft Press Release
Kim Griffin of Menlo Park is our new President, while Dr. Jerry Shefren is V.P. Katie Kane was elected Secretary in spite of my effort to obtain that position. My effort to get the audio recordings of Board meetings up on our website is a work in progress. Here is a sample of one such audio which I produced from the recording of a meeting made by Janeene Johnson. Click on SHCD5Aug2009.WAV/a>. Kim Griffin is supportive of the idea.
Sequoia Hospital District History
1946 Election establishes Sequoia Hospital District
See The Local Hospital District Law circa 1945
CEO Art Faro nearly bankrupts District - Sequoia Hospital sold! - 1996 Bailout Election
Post 1998: Hospital District "morphs" into Healthcare District

Download full Page Spectrum Ad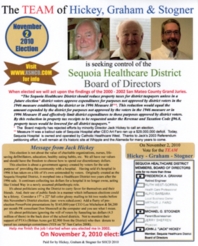 Candidate Videos - Campaign Postcard - Campaign Flyer
Our TEAM has the endorsement of the Howard Jarvis Taxpayers Association PAC, and
MyLiberty

Pre-election PR excesses of Sequoia Healthcare District
Powerpoint presentions are being made to the Chamber of Commerce, Rotaty, Kiwani's, etc. by CEO Lee Michelson with Don Shoecraft, the Board's $4,200/month PR guy running the computer. My request for an electronic copy of the Powerpoint presentation was denied based upon a claim that it was the property of the PR guy. Originally these presentations included photo-ops of Board President Horsley (candidate for Supervisor in this November's election) and other Board members serving food at St. Anthony de Padua's Dining Room. At our last Board Meeting, I pleaded with President Horsley to postpone this activity and mailing (shown below) until after the election. He refused, but did say that the photo-ops of Board members were removed from the Powerpoint presentation.
Click on the below image to view their 17" x 22" glossy, double-sided pre-election mailing.

How much did this cost the taxpayers?
Sequoia Healthcare District Kicks Off $4.5 Million Healthy Schools Initiative. View a bloviated, self promoting presentation to San Mateo County Board of Supervisors by Don Horsley and read the hyped up reporting by Don Shoecraft, the Board's $4,200/month PR guy and compare it to the video. Then check out Jack Hickey's response in SHCD Minority Report .
Watch Board President Don Horsley receive praise from SMC Board of Supervisors (Oct. 19) as they acknowledge his generous donation of your tax dollars (>$9,000,000).

In my opinion, this activity is clearly aimed at influencing the election.
Use of public funds for this purpose constitutes misappropriation of public funds, a felony.
Other questionable actions of the District
Why did they contribute $2,900 to the Brittan Acres PTA two months prior to a parcel tax election? (That PTA made a $999 monetary contribution to the YES on "S" campaign).
Why did the District hire former Atherton Police Chief, Glenn Nielsen to head up the HeartSafe program without Board approval? The HeartSafe program was initially intended to be a "turnkey" operation, not an ongoing enterprise.
Elect Hickey, Graham & Stogner
E-mail Jack Hickey
Send contributions to:
Hickey, Graham and Stogner for SHCD 2010
243 Ferndale Way Emerald Hills, CA 94062